Retreats Portugal
Right now we are planning our third Seabreeze Retreat, while two years ago we were still dreaming of doing a retreat outside of Austria. 2022 we had two magical retreats here in Portugal. All good things come in threes. This October we welcome you to our third offline time-out on the magical coast of Portugal.
Seabreeze Retreat Portugal
Feel the vastness of the ocean and leave behind what feels heavy. And say yes (or shout it out loud) – to an offline-time that delights body, mind and soul and combines what makes us feel so good. 
We welcome you to a particular place – the beautiful Quinta Raposeiros, a country residence on 27 hectares overlooking the sea. The farm is nestled in the rolling hills of Portugal, surrounded by pine forests, palm trees, and fresh orchards. The holistic concept of the certified organic farm, the cultivation of lemons, figs, quinces, and its sustainable philosophy immediately resonated with us.
The large, light-filled yoga shala overlooking São Lorenço beach, the beautiful communal area with pool, and the accommodation in premium double rooms with a private bathroom, small kitchenette, balcony, and sea view offers everyone the necessary peace and privacy.
Nutrition for your body, mind and soul
Vegan, gluten-free, self-grown, or from the farmer around the corner? Weronika's perspective on nutrition is unique. When we first met, she told us about her garden, in which she lends a hand every day. Her down-to-earth nature and her connection to Portuguese culture are in no way in contrast to her unusual and delicious creations. Three times a day, Weronika treats us with delicious dishes that have a posivitive effect on your physical and mental health and make you glow from within.
We start and end each day with a yoga, movement or meditation. That's how we establish a healthy routine and plant the first seeds for your healthy everyday practice at home. 
Alexandra, the founder of Wurzelwerkstatt, provides dynamic Vinyasa and restorative Yin Yoga sessions. She has been teaching yoga for more than 6 years in different locations, studios and events all over Europe and has a special love for creative movement forms.                       
This time, we also have Alexa on board. She is a yoga teacher and Shake the Dust trainer and brings a lot of fun to our movement sessions. Shake the dust is a concept that allows yoga, dancing, shaking, jumping and everything in between. It's  the right thing to get rid of physical and emotional ballast.
Be creative and create your own work of art. Weaving: an old craft, reinterpreted. Amy Ilic shows you how it's done. In addition to a work of art, we also work on your personal vision. A unique opportunity to discover your potential, create your vision and take the first steps towards your goal. We give you space to dive deep into your dreams and support you with guidance. Each day has a different focus and lays the foundation for your future.
The Quinta is located in Santo Isidoro, in the charming neighbouring town of Ericeira. Ericeira is known for its good waves, the surf scene and now also for the holistic community that has settled there. Yoga, spirituality and permaculture are becoming part of the international community. The proximity to Lisbon and Sintra also offers cultural enjoyment for city lovers.
From Lisbon airport it takes about 40 minutes by taxi. A taxi costs about 30-40 Euros and can be shared among the participants. Of course, we are also happy to connect guests who travel with their own car.
5 days & 4 nights offline 

Accommodation at Quinta Raposeiros 

Occupancy in premium double rooms (single room on request) 

Holistic vegan diet (brunch, afternoon snack, dinner, tea and water) 

All yoga and movement sessions

Welcome Ceremony 

Guided Journaling

Creative workshop 

Sunrise hike to the beach

Campfire evening and long talks

Private concert 

Exchange with a like-minded community

Wurzelwerkstatt goodie bag
Early Bird – 990€ (until End of January) 
Normal Price 1150€ 
Student / unemployment discount on request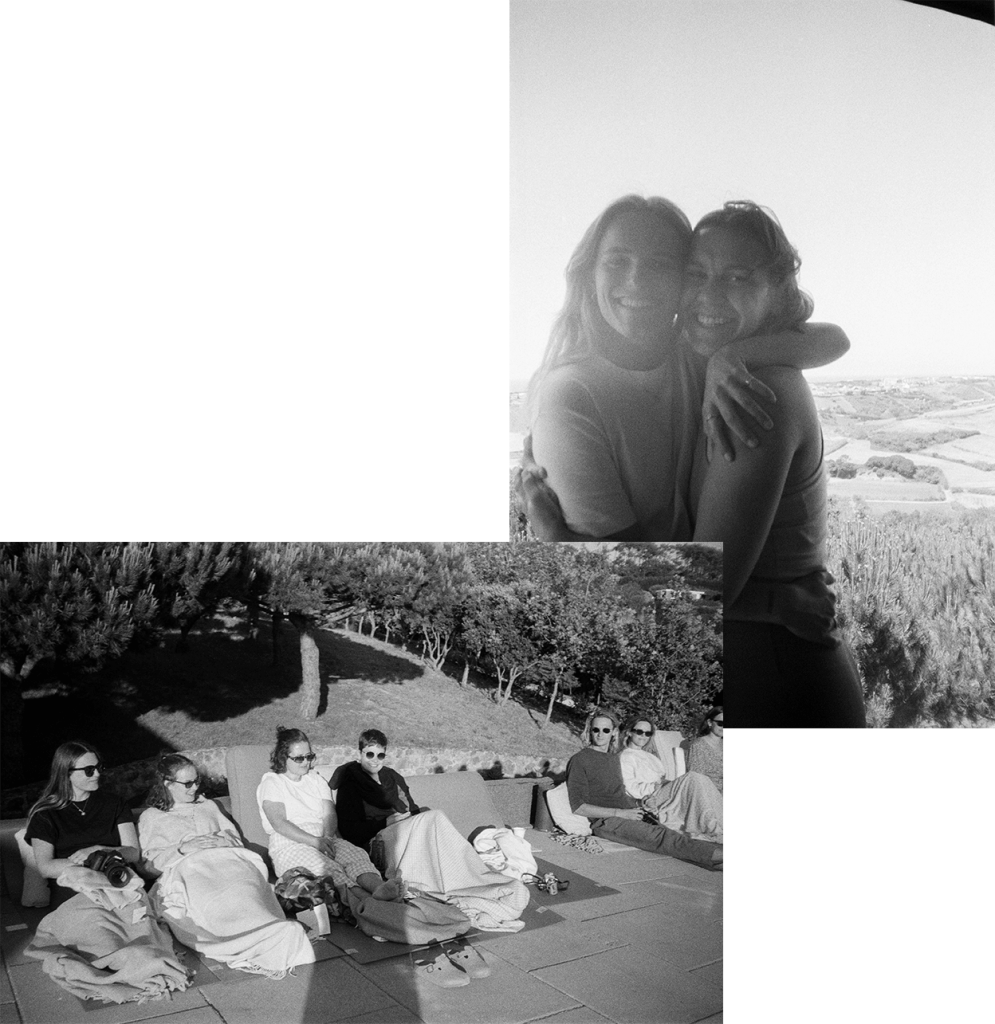 Want to join us or receive more information?