"

Just living is not enough," said the butterfly, "one must have sunshine, freedom, and a little flower."



Hans Christian Andersen
About Wurzelwerkstatt
With Wurzelwerkstatt we created a place to retreat. A place to take a step back from everyday life and a routine that is often too fast, stressful and shaped more and more by digitalization.  
Our approach of being offline is a playful one. Rather than a "digital detox camp", which strictly forbids technology, Wurzelwerkstatt is a movement back to our roots. It's about the joy of being offline, distancing from the familiar, and consciously enjoying the moment. All of this creates connection. With ourselves, nature, and the people around us.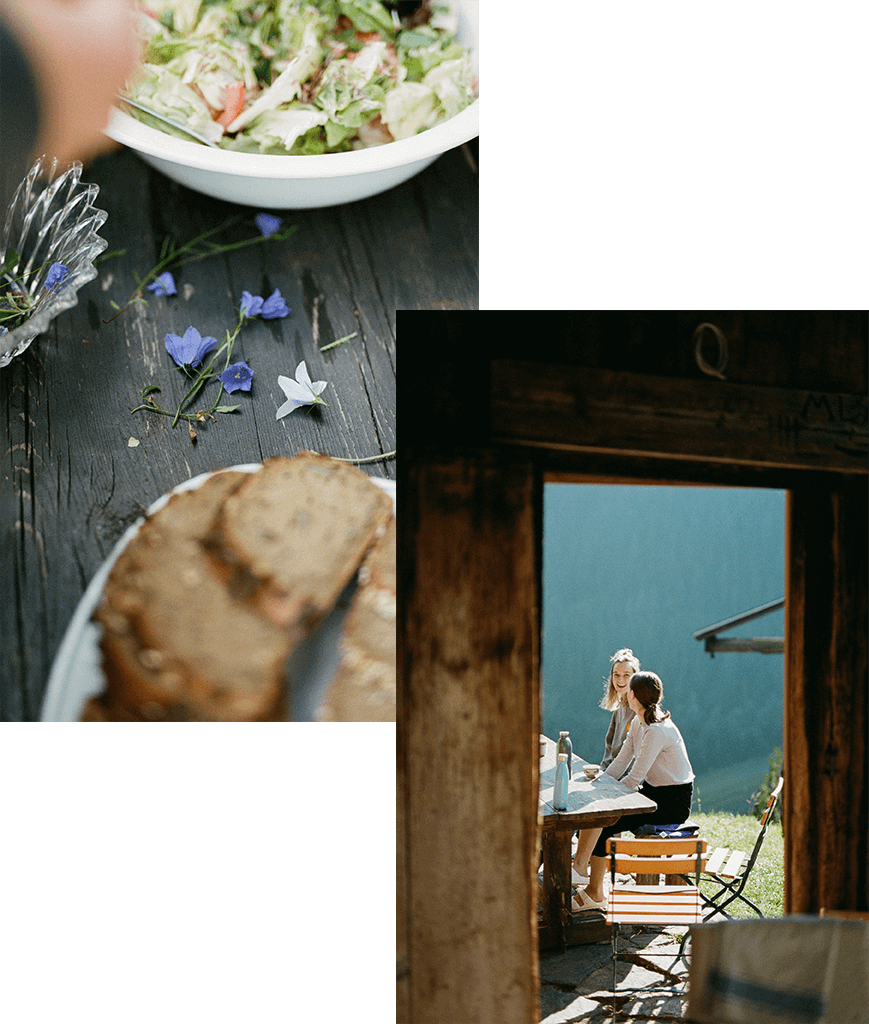 Invitation to participate
Exchange is an essential part of our retreats. After our second event, we reflected and realized two things: 
On one hand, we noticed that each and every one of us has unique talents and they tend to come to light when we are present in the moment. On the other hand, a powerful network emerges from our Wurzelwerkstatt retreats. Participants inspire each other and stay in contact as friends or business partners for a long time. 
Based on this, we have developed the approach that everyone joining our retreats is invited to contribute. We are all learning from each other, everyday and we are curious to learn from you. 
We have welcomed many gifted people who have shared their knowledge and passion with us at our retreats. For example, Anna, who held a creative writing workshop, Lisa, who shared her macramé skills, and Robert, who taught us bookbinding.
The story behind Wurzelwerkstatt
The idea of an offline camp came up in 2016 when Alexandra was writing her master thesis. She decided to research on a topic that matters and started to look deeper at the negative implications of digitalization. In the end, she wrote her thesis about the need of being offline and disconnecting from the digital world. That was at the origin of the Wurzelwerkstatt concept. 
The project was brought to life with Sophie, Ella, and Max in 2017. In the meantime, Wurzelwerkstatt has blossomed in many directions, grown more branches and buds, but always remains the same roots: celebrating the joy of being offline. 
Why
is being offline so important?
Nowadays, we do everything via our screens. Not only working and watching TV, as in the times before smartphones existed, but also shopping, paying bills, booking trips, talking to friends, … everything is done online. As practical as it is, it has a strong effect, not only on our bodies, but also on our mind. From anxiety and FOMO, over declined focus and problems concentrating, to sleeping disorders – Digital devices have a huge impact on us.
That's why it's important to switch off consciously. For us, the word offline takes on a new meaning. Turning off the devices feels like an act of rebellion and is a moment we look forward to every time.